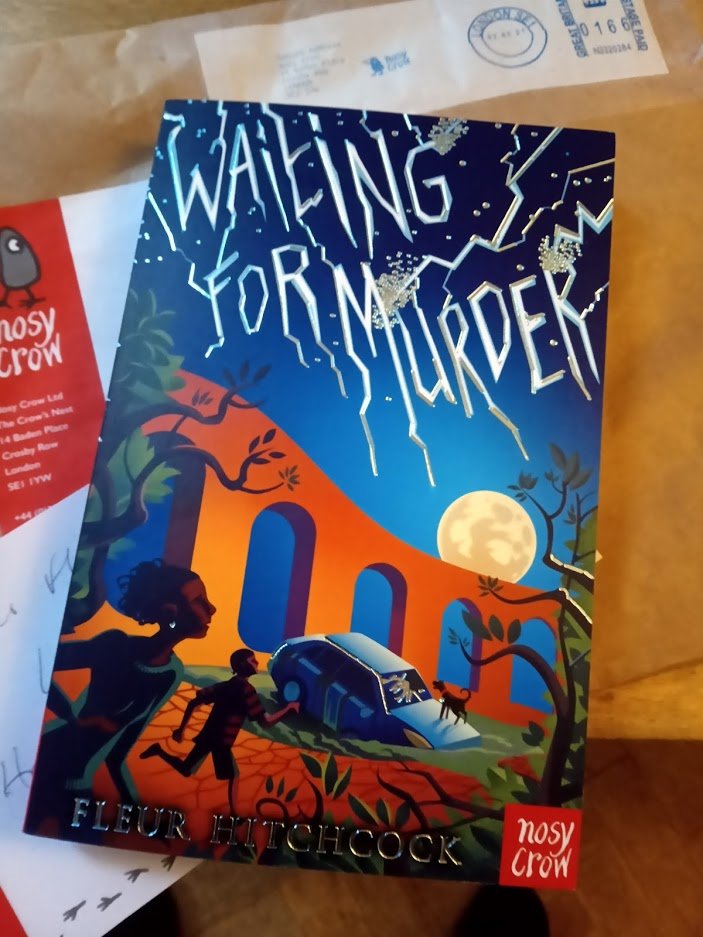 I began to write Waiting for Murder some time in the autumn of 2019 – I think. Or was it slightly earlier – thing is, I can't remember, it's all a blur. A blur of travel, trains, meetings, working through Christmas at Waterstones, family, friends, school visits. I know for sure that it was mid to late February when the last edits were going through – because we were heading for publication in June 2020.
And then the world stopped spinning.
And the book was bounced from June 2020 to June 2021 and then back to April 2021.
Just now, I opened a copy for the first time. I looked at the words I wrote over a year ago and thought it's bound to feel like some strange historic time full of people and interactions and no social distancing – but total chance has made me set a book almost entirely OUTSIDE! Dan meets Florence on the side of the reservoir. Meals are taken in the pub garden. The book is rammed with unsatisfactory plastic pot picnics – swimming, walking, stalking and running. They're even outside at night. And while I was raising the tension – lengthening the days, stretching the nights, I was searching for the liminal space and time place where suspense rules. The place where people can hardly breathe because they're – waiting.
Just like we've all been for the last year.
In the end of course, the book resolves. It's fiction after all. Dan's waiting cracks with the soil and the weather – all the hours of stillness charge headlong into a breathless finale – wrapping and crossing and dotting every loose end and stray word in a flurry of action and reaction. It is, after all a thriller – and thrillers, must thrill. They must move the reader from the state of anxious limbo, to the deep comfort of resolution and explanation via an out of control helter skelter in which the story could go either way.
That's why we need them at times like this – they finish, they resolve, they explain. This may be why crime is so popular right now. We just want definite answers.
And, in spite of all the lockdowns, Waiting for Murder and it's resolutions will be available through bookshops across the country. If you have a local indie, you can order it through them – if not, try one of these: The Book Nook Hove
The Rocketship Bookshop in Salisbury The Yellow Lighted Bookshop Sam Read's Books The Portobello Bookshop or
Waterstones Some of them will actually have it in stock.
And finally – a book launch. Not something I'd normally seek out, but online? No soggy crisps? Warm wine – no running back from Waitrose in Bath with a collapsing carrier bag or baking weird shapes cakes (they would have been lightning bolts this time) Instead – it's totally don't-leave-your-house-and-you-can-find-your-own-beverage. And I can do this with someone else so here's your invite – Do please join Gill Lewis and me when we launch our books (Hers is the wonderous Street Dog Named Pup) together with a chat about ten years since we did the MAWFYP at Bath Spa. The joys and tragedies of children's publishing – EEEK! We'll be "in conversation" on the Book Nook's Facebook live feed on 30th March 7pm – All of you are welcome!!! And you can all come, because you'll all fit.
So a year ago – an online do-it-yourself booklaunch with Gill Lewis, for a book that I'd written a year before but which works under the current rules was soooo not on the cards. I really couldn't have imagined it.
But it's funny how things turn out.
See what you think,
Pre-order it from your local indie, or if you don't have one, try one of these: